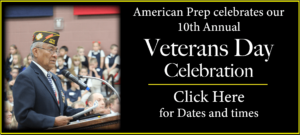 Event Schedule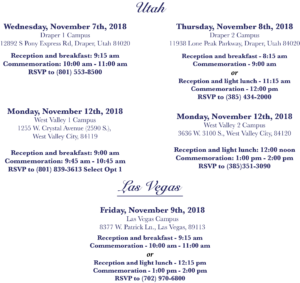 Veterans Day at American Preparatory Academy is not only an opportunity to celebrate
and honor our veterans but also an opportunity to educate our students about the
value and cost of the freedoms they enjoy.
In November, each one of our schools will hold a special assembly as a way to personally thank
veterans in our community.
At American Prep, we believe that Veterans Day is a day to acknowledge the valor
bestowed by men and women who have fought and continue to fight in order to keep
America safe.
Students will receive invitations to give to their veteran family members. During
the event, students will perform patriotic songs, perform spoken tributes, and there will be a Veteran Salute honoring each department of the military.
Veteran guests will receive a small token of our appreciation from American Prep as a
thank you for their special service.
We hope you will join us in honoring our veterans this November by either attending one of our commemorations or in your own way in your community!