2019-2020 Preschool enrollment NOW OPEN!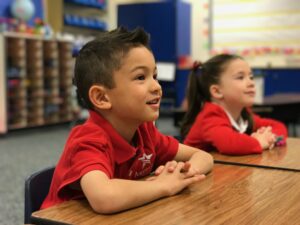 Our preschool is located at the Early Learning Center location (12894 S. Pony Express Road, Draper, UT 84020).
Children must be 4 years old by September 1, 2019, to be eligible to enroll.
Siblings of students at American Prep schools will receive a priority for enrollment prior to any lotteries being held.
Days and Fees
(availability will be based on demand)
Half Day 2-day AM or PM – Tuesday/Thursday (3 hours) = $1800 ($180 month over 10 months)
Half Day 3-day AM or PM – Monday/Wednesday/Friday (3 hours) = $2700 ($270 month over 10 months)
Half Day 5-day AM or PM – Mon/Tues/Wed/Thurs/Fri (3 hours) = $4850 ($485 month over 10 months)
Full Day 2-day – Tuesday/Thursday (7 hours) = $3400 ($340 month over 10 months)
Full Day 3-day – Monday/Wednesday/Friday (7 hours) = $5000 ($500 month over 10 months)
Full Day 5-day – Mon/Tues/Wed/Thurs/Fri (7 hours) = $8850 ($885 month over 10 months)
Hours
AM Class: 8:30-11:30 a.m. (Extended hours 7:00 – 8:30 for an additional $90/month)
PM Class: Noon-3:00 p.m. (Extended hours 3:00 – 4:30 for an additional $90/month)