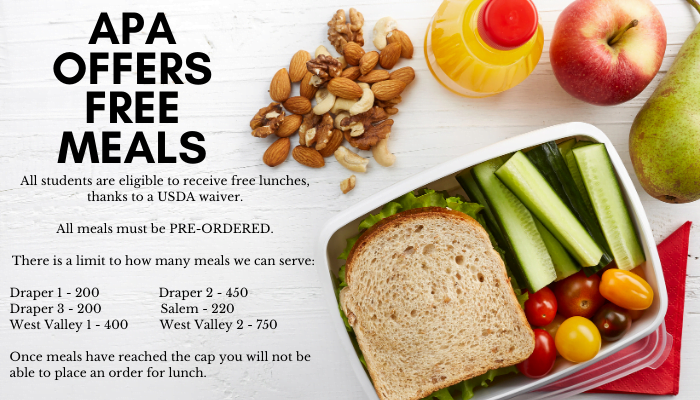 Welcome

American Preparatory Academy participates in the National School Lunch Program (NSLP). We provide nourishing, wholesome meals that meet the U.S.D.A. nutrition guidelines.

Click here to learn more about free meals.  Click here for official news release.

Each meal includes five components:

Meat/Meat Alternative

Grains/Breads

Fruit

Vegetable

Fluid Milk (White or Chocolate)

Parents can also order milk to accompany a home lunch.

Lunches are provided by a third-party vendor – they are COLD sack lunches. Microwaves are available for secondary students.

Prices

| Grade | Cost |
| --- | --- |
| K-5 | $3.05 |
| 6-12 | $3.35 |
| Reduced Price | $0.40 |
| Milk (no lunch) | $0.35 |

The cost of each meal (even paid lunch) is subsidized by the National School Lunch Program, and the school only receives funds for students who are present at school and receive the lunch. If your student is absent, the school still pays the cost, but receives no funds. This is why it is helpful to cancel your lunch order if you know your student will not attend.
Click here for more information about meals for Off Campus students.

Ordering Policy

All lunches must be ordered 48 hours in advance (you must place your order on Saturday to receive a lunch on Monday). Parents are encouraged to order as far in advance as the menu allows.

Whenever possible we try to serve the specific lunch you order, but there are occasions when your student will be presented with an alternative that meets the nutritional requirements and your child's specific dietary restrictions.

If you are having problems with Google Chrome, please try using a different website browser like Safari.
This institution is an equal opportunity provider.