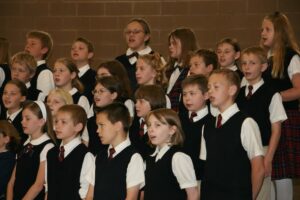 Debates have been going on for at least a decade about whether to have mandatory uniforms in schools. When you read about schools around the world, 86 percent of those surveyed support school uniforms. There are many reasons to have school uniforms like the uniforms worn at American Preparatory Academy. Thirteen of the best reasons to wear school uniforms have been researched and found to be acceptable. These reasons are:
School uniforms create equality. When students have dressed alike, that unhealthy competitive feeling about who looks best is eliminated. Studies have shown that school uniforms decrease peer pressure and bullying. Why? Students are all wearing the same outfit. It doesn't matter if they come from high- or low-income homes. No one stands out in the type of clothing they are wearing.
School uniforms reduce crime. It is easier to keep track of students and what they are carrying into the school. Intruders on campus can be spotted, and the design of the uniform helps ensure student safety. When students can wear baggy clothes and are not in uniform, who knows what they are carrying underneath their clothes?
School uniforms promote learning. It is so much easier to concentrate and focus on important things in the classroom. Students don't need to look around and see who is fashionable and who is not. They don't have fun and catchy clothes to comment on and look at. One less distraction from listening to the teacher.
School uniforms instill pride, unity and school vanity. When wearing uniforms, students often feel more "important" since they belong to a group.  Uniforms give a sense of belonging, and a code of conduct is imposed on the student. Uniforms foster community spirit. In schools in Japan, many educators have found that when students wear uniforms, they feel more professional and behave accordingly.
School uniforms like those worn at American Preparatory Academy in Las Vegas improve discipline and attendance. You no longer have the issues of shorts and skirts being too immodest or pants and loose-fitting jeans falling around students' knees. Dirty and unkept outfits quickly become a non-issue when there is a uniform policy.
School uniforms prevent gang colors and crests. Group members in gangs wear group colors to set themselves apart. When students are required to wear uniforms, these group colors and emblems create a safe environment for all the students at the school. You don't need to be worried that you are wearing the "wrong" color. Studies in the inner cities of Detroit, New York, Las Angeles, violence that is related to gang affiliation is reduced. Some schools do not use the "offending" colors on their uniforms. Students are safer.
School uniforms make it easier to get ready for school. No more worrying about what to wear! Students can quickly put on their uniforms and get to school on time. Time can be better utilized for other activities rather than choosing out what outfit will look best. One of the best reasons for school uniforms? No more arguing about what to wear in the morning!
School uniforms do not take away a student's individuality. You can be innovating and add creative touches to your uniforms at American Preparatory Academy. You can wear a variety of items like buttons or jewelry. Be yourself. You don't lose your personality when you wear a school uniform. Just the opposite, you can stand out by being you. One young lady who worn school uniforms her entire school career found a unique way to be unique. Her school banned red from being worn on uniforms, but nowhere did school policy say she couldn't wear colored shoes. To feed her love of red, she began to wear red shoes to school. She quickly became known as a quirky kid. She says, "If there was no uniform, I would just be another face in the crowd."
School uniforms tend to help students be more diligent. They tend to be better behaved, better students and a school uniform at American Preparatory Academy in Las Vegas gives students feelings of trust and belonging.
School uniforms prevent administrators from being dress code police. Schools who do not have require school uniforms, do have regulations on what types of clothing is allowed. There are rules regarding visible logos, modesty, insulting writing on clothing as well as gang symbols and colors. Because of dress codes, teachers and administrators are not clothing monitors. Monitoring clothing is avoided when students are in uniform. No longer does the administration need to track what everyone is wearing.
School uniforms provide a sense of identity and community. It is said that when the entire student body is dressed in uniforms, they have a strong team mentality. When everyone is dressed alike, this leads to a sense of unity and belonging that can be found at American Preparatory Academy.
School uniforms create economics for their parents. At the beginning of the school year, you are only purchasing school uniforms. Uniforms are sturdy and designed to stand up to repeated washings. Parents find that they only need to buy a new set of school uniforms. Saves money on trying to purchase the latest trendy fashions.
Parents and teachers support school uniforms. Administrators and teachers are highly in favor of school uniforms at American Preparatory Academy. Most parents say that purchasing uniforms save time and money. They love the convenience of school uniforms, and they can tell that students have more school pride when in uniform.
Students may grumble and gripe that they must wear a uniform. One student who wore uniforms for 12 years (begrudgingly) admitted that wearing a school uniform was preferable to wearing the latest in fashion. She repeated the 13 reasons for school uniforms and emphasized that wearing school uniforms at American Preparatory Academy helped her feel good about herself. When everyone is wearing the same thing, no one can feel bad about their lack of fashion.