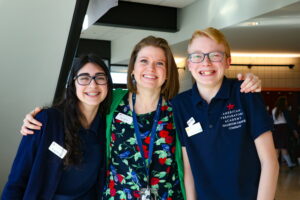 Charter schools could be called alternative schools. They are independently run public schools granted greater flexibility in operations. Charter schools, like American Preparatory Academy, have to account for their performance, however. Charters that establish each school is a performance contract: the charter details the school's mission students served programs, performance goals, and assessment methods.
Charter schools vary a great deal in result and design. Most charter schools are based on principles and practices that have proven successful in producing academic gains. Schools like American Preparatory Academy offers athletics, dance, theater, and other activities designed to prepare students for college. The focus in many charter schools like American Prep is in developing good character and focusing on classical education.
Usually, charter schools have departments or teams that supplement the K-13 content development, fundraising, data analytics, diversity, external relations, and finance. Renowned charter schools like American Preparatory Academy and American Preparatory Academy in Las Vegas utilize their departments and teams to ensure that students are given a top-notch education. Schools like American Preparatory Academy are prep builders – allowing students to reach higher platforms and be ready for higher education.
Demographics and Enrollment
The demographics in charter schools are similar to the characteristics of students in the public school system. However, charter schools often have substantially higher percentages of minority or low-income students than traditional public school. This ratio is due to charter schools accepting students by random or public lottery and the federal mandate they have open enrollment.
Enrolling your child at a charter school occurs through a random lottery. Generally, charter schools prefer students who live in the area where the charter school is situated. However, all students are eligible to apply and can be admitted if space permits.
Once you have applied for admittance, wait for a vacant seat. Then applications will be included in the lottery and families of students selected in the lottery will be notified. When all the vacancies have been filled the lottery is closed until more vacancies become open. An interesting caveat, not all the students in a family will be selected. It all depends on the lottery system.
Charter schools use a lottery system since almost all charter schools are in high demand. Your student may not be admitted even if they have high test scores or write awesome essays.
Funding
The students attend charter schools tuition-free and funding is assessed according to their enrollment numbers. Schools like American Preparation Academy are entitled to federal categorical funding such as Title I and Special Education money. Federal legislation to manage startup costs also provides grants.
Teachers
Certification requirements for teachers vary state-by-state . In Utah, teachers at American Preparatory Academy need to be certified. Charter school teachers have the same licensing requirements as teachers at every other public school.
American Preparatory Academy in Las Vegas hires teachers based on their knowledge and experience. At least 70% of teachers in a charter school must demonstrate their qualification through licensure or subject matter expertise. The core subjects need to have licensed and certified teachers.
Why Go to a Charter School?
There are four specific reasons parents enroll their children in charter schools. One is the reputation and results of the school. Charter schools like American Preparation Academy enjoy a high reputation for happy students and satisfied teachers. Students can choose different classes that may not be offered in a public school. Charter schools must meet specific test scores and prep schools are reputed to meet these standards.
The curriculum can be varied in a charter school. Variety gives students opportunities to attend classes they are excited to attend.
Convenience is a feature of a charter school. Parents today have a choice of where to send their children convenient to their home. Location no longer determines what school your children attend.
The quality of teachers in a charter school isn't the most important feature for parents, but it is one reason students transfer from a public school to a charter school. Teacher quality is essential.
The bottom line? Parents today are very knowledgeable and selective in choosing the best educational venue for their children. Charter schools offer them a different way to find an excellent education for their children.