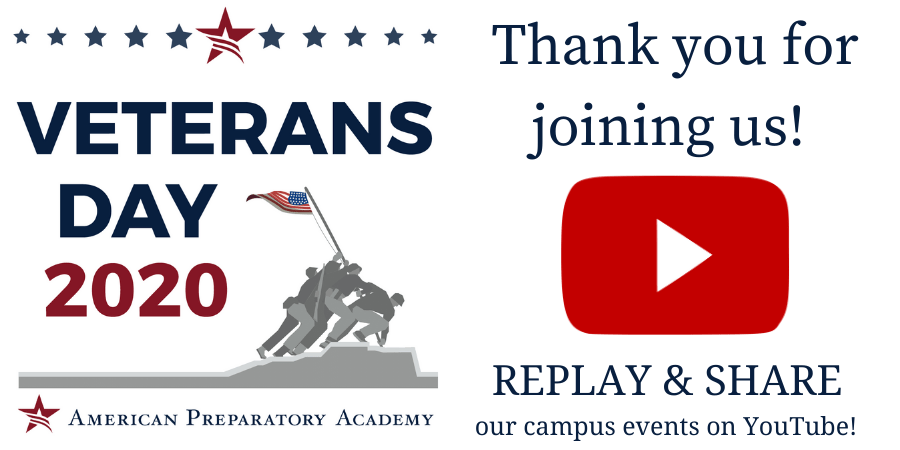 Thank you to everyone who tuned-in to our 2020 Veterans Day Livestream program.
It has been a long-standing tradition at APA to celebrate our veterans. We understand that the freedoms that we enjoy have been provided at a great cost, by many servicemen and women we may never know, and whose sacrifice, we may never fully understand.
It is a true privilege to celebrate our veterans in songs and speeches and appreciate them in our campus performances.  Thank you again for joining us for such an important event.
How to request a Veterans Day card and pin
If you know a veteran who would like to receive a special Veterans Day card and pin, please send an email to Marion Minson at mminson@apamail.org to arrange a pick-up at one of our campuses or delivery by mail. These are free to our veterans.
If you would like to pick up a card and pin at a specific campus, please call any campus office and they will provide instructions on how to receive a card & pin for your veterans. Please visit www.americanprep.org/our-schools for a list of our campus phone numbers and locations.
Did you miss your campus Livestream? No problem!
Our entire live stream event is available to view at KSL – https://www.ksl.com/watchit/entity/193
Here are links to our campus-specific videos on YouTube.
Thank you again and HAPPY VETERANS DAY!

American Preparatory Academy believes it is a privilege to honor our veterans and to teach our students about the sacrifices they have made to maintain our nation's liberties.
Please join American Preparatory Academy this Wednesday, November 11th for our 2020 Veterans Day program.
Here is the schedule for each campus:
8 AM – Draper 3
9 AM – Salem
10 AM – Draper 2
11 AM – WV1
12 PM – Draper 1
1 PM – WV2
We love our veterans and prefer to hold our assemblies in person; however, this year, to keep everyone safe, this event will be live-streamed every hour from 8 am – 8 pm at
live.ksl.com.
We hope you will share this event with your veteran friends and family and share the link with them so they can see our gratitude.
Our online presentations will feature student speeches and performances from each campus. Each commemoration is a reminder of the importance of honoring our great men and women who have served our country.
Our Veterans Day program is attached so you and your family can follow along with our students as we celebrate.
Click
Here
to download our Veterans Day Program