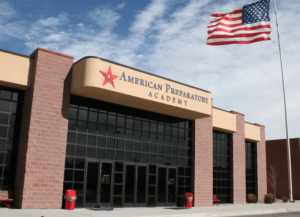 School culture is interchangeable with school climate and school environment, but the general definition of school culture includes the students', parents', and school personnel' experience of school life and its values and goals. The National School Climate Center goes on to say that school culture also includes teaching and learning practices, organization structures, and interpersonal relationships.
Al these factors are influences on student learning – which is the goal of K-12 education. To create great school culture, learning, and climate The National School Climate Center has stated: "When school members feel safe, valued, cared for, engaged, and respected, learning measurably increases, and staff satisfaction and retention are enhanced."
American Preparatory Academy Schools in West Valley City are engaged in several ways to cultivate a vibrant school culture and deliver a learning climate. Read about the ways to create a vibrant school culture, and if you have suggestions, contact American Preparatory Academy Schools in West Valley City. They will be interested in your suggestions.
Have and Live Your Vision
Every charter or public school should have a mission statement that relates to the values, beliefs, and aims of the school. Don't keep your mission statement in a file cabinet or sitting on a school webpage but revisit your mission statement and reflect on it. Ensure that your administration, teachers, and students are living the mission statement, too.
In the book How to Help Your School Thrive Without Breaking the Bank a vision statement is listed as your school's goals and where you hope to see your school in the future. The mission statement is an overview of the steps planned to achieve the future.
A Vision should be concise and easy to remember, and the mission of your school should be a bit more explanatory. If the vision and mission are embedded in the school's practice at school, this helps the school stay track and be tied together in their goals.
Incorporate Social and Emotional Learning for both Teachers and Students
School is more than reading writing and arithmetic (the three Rs). It is a place, especially if you are a charter school, that supports a student's growth in body, mind, and heart. Schools that include social-emotional learning or SEL into their curriculum and classrooms, provide to teachers and students awareness of emotions, stresses, challenges, traumas, and academic learning. The Pennsylvania State University and Robert Wood Johnson Foundation wrote a paper entitled Social Emotional Learning in Elementary School. The paper lists, "Extensive research shows that SEL programs can promote academic achievement positive social behavior and reduce conduct problems, substance abuse, and emotional distress."
Think about it. If teachers and students feel important and they are considered, they will be willing to discuss challenges, stressed and reach out to academic learning. Give students a climate of learning that is based on caring instruction, real understanding, and teachers and other students reaching down to pull a student up to the level of his/her classmates.
Teach a Culture of Resilience
What is resilience? Staff and teachers are models for how to cope with a setback, stress, challenges, and student disputes. Students and staff look to the top administration for examples on how to adjust and work against school challenges.
Elle Allison in The Resourceful School states that "Resilience is often described as a personal quality that predisposes individuals to bounce back in the face of loss. Resilient leaders, however, do more than bounce back – they bounce forward. With speed and grace, resilient leaders take action that responds to new and ever-caning realities." Yes, we are asking a leader to be "super-human and maintain the essential day-to-day activities of the school they lead. To put it in perspective, don't be negative when things get tough. Spread a can-do attitude, like American Preparatory Academy School in West Valley City, is reputed to do.
Recognize the Awesomeness in your Staff
Creating a culture and climate of positivity mean recognizing what your staff members do well. The staff works hard to ensure the best possible outcomes and experiences for their students. Be a leader and recognize that a staff member's success is part of your school's total success. Celebrating people's contributions, victories and efforts make teachers feel appreciated and seen. Dr. John Paul Sanchez said, "There's a science to the recognition of your teaching staff. My professor in school helped me understand that recognition for hard work needn't only be recognized by the principal but must be a part of the culture of the school. Culture can change by providing and nurturing a culture that celebrates the awesomeness."
Recognize the Positive Behavior in Your Students (PBIS)
American Preparatory Academy Schools in West Valley City are excellent in encouraging good behavior in students with a focus on prevention rather than punishment. According to the NEA, PBIS is the factor that improves the social culture and behavioral climate of the classroom. Positivity leads to greater academic performance. Shift schools cultural focus away from punishment for non-compliance to focusing on positive behavior and successes. The NEA goes on to say, "This is why exclusionary disciplinary procedures, specifically zero-tolerance policies, actually increase the probability of young people becoming resentful, hostile, and ultimately even incarcerated."
To enhance the culture and climate of a school, it takes a community. When people talk about your school, make sure they see and feel the school's culture. Visitors coming into your school should see visuals of staff, student quotes that represent the school's goals, and student work is displayed on the walls.
Make sure your mission statements are clearly displayed. Create a sense of family by making the school warm and engaging. Enlist the community to spread the word of how the culture and climate of your school are the best. When you walk into American Preparatory Academy Schools in West Valley City look around, and you will feel the culture and climate of learning, social acceptance, and a mission of educational goals.