Best of State Winners were announced Friday, April 7th, 2017
American Prep School for New Americans won the award for the 2017 BEST OF STATE CHARTER SCHOOL for SAGE performance and commitment to students and community.
https://www.bestofstate.org/winner2017_education.html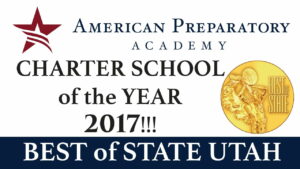 2015-2016 Highest SAGE Growth of ANY school in Utah
American Preparatory Academy School for New Americans (West Valley 1) was recognized on February 9th by the State Charter School Board for achieving the highest median SAGE test growth of any school in Utah for English Language Arts. This means that American Prep – SNA's students improved from 2015-2016 by an average of 85% which is incredible. This is unprecedented and is a testimony to the culture at American Prep.
Our teachers and administrators have a strong commitment to ensure kids are prepared through practice testing, logic training, positive class environments, and even breathing exercises.



See more SAGE details by clicking the link below
https://schools.utah.gov/data/Reports/Assessment.aspx