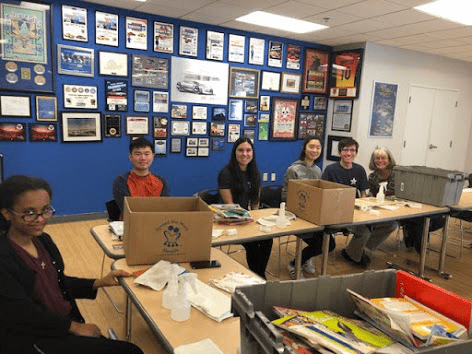 American Preparatory Academy in Las Vegas, NV, has been "rated above average in school quality compared to other schools in Nevada. Students perform above average on instate tests, have above average college readiness and are making above average year-over-year academic improvement.
This rating aligns with the school's mission to "ensure each student achieves maximum academic success by teaching skills to mastery levels, imparting valuable knowledge, transmitting the common culture that binds us a nation, and exposing children to supreme examples of artistic and intellectual achievement."
The state attempted to put a moratorium on new charter schools, but according to parents, educators, and industry leaders, placing a stop on new charter schools even for a short time would stymie financial, industrial, and education growth in Nevada. Nevada is a state that can ill-afford to have their education stifled in any way since they are currently number 51 out of 50 states and the District of Columbia in education status.
Charter schools in Nevada are the third-largest school district in the state, and American Preparatory Academy Las Vegas, NV, is one of the premier charter schools. American Prep is so in demand that a second campus formed near the first campus.
Proposed Rules to Make Charter Schools More Inclusive
However, new rules are being imposed on charter schools that will hopefully make education more accessible in underserved areas. The proposals will address three areas that include demographic information of pupils, the academic needs of pupils, and the needs of pupils who are at risk of dropping out of school. The charter school authority and its boards will use these three assessments when approving new charter schools.
The demographic category looks at the number of students who are English language learners, qualified for free or reduced-price lunch or on an individualized education program. Data presented shows that state-sponsored charter schools have a disproportionately low enrollment of students in these categories and need to adjust their enrollments.
American Preparatory Academy in Las Vegas, NV, is proud to be one of the charter schools that follow these demographic rules. When Amerian Preparatory was first organized, they were founded to serve immigrant and refugee children who were English language learners, qualified for free or reduced-price lunch, and were on individualized education programs to get them up to speed.
Academic needs for charter schools require them to focus on admitting students who are not reading at grade level and who are school credit efficient and unable to graduate from high school.
American Prep consistently receives high marks for reading proficiency in their students. As an example, in the Graphical Summary Report for the Year 2018-19, students who are in Grade 6 at American Preparatory Academy Las Vegas, NV, rated at 71.2% proficiency in reading levels. The State Public Charter School Authority requires  57.5%.
American Preparatory Academy in Las Vegas, NV, encourages students to take the ACT or SAT at least two or three times. American Prep holds an ACT boot camp every year in early November to prepare students to take the necessary entrance for high education. During the winter term, and ACT Prep class is offered.
The new rules are expected to stop the "rubber-stamping" by the charter school authority and to look into applications for new charters actively. It is also designed to "up" the requirements for charters to accept students from every ethnic and financial class. The tightening of the rules on new charters is also focused on charters adhering to their original charter proposals.
Last year the charter school board approved a charter school only to have the school propose an amendment to change their name and location.  Location and name changes might not be seen to be a difficult change, but the new location did not consider pupils who qualified for free or reduced-price lunch, were English language learners, and in individualized education programs.
The new needs assessment requirements would cause the process for switching locations to be more difficult, and approval can no longer be assumed. Entirely new planning using updated student demographics in their new location would need to be presented.
American Preparatory Academy in Las Vegas, NV, adheres to the charter schoolboard's requirements and students who enter their doors are invited in to learn, advance, and achieve. American Prep consistently allows students into their schools who fit the demographic requirements and the school stresses academic achievement.