School Lunch Update
We hope your students are enjoying the meals provided by the school lunch program! We wanted to make parents aware of how elementary lunches are served. To facilitate easy delivery, the main dish and fruit are put in a bag, along with the snack that is sometimes included. The vegetable milk, and condiments are not included in the bag, but are provided in the caddy or cart. The lunch staff carefully tracks and adjusts the vegetable servings to provide enough for each student who would like them. If there is a shortage of milk, vegetables, or condiments, students are welcome to go to the lunchroom to get what is needed.
We welcome parent feedback, and have a new form for parents to let us know about their concerns or problems. If you choose to include your contact information, the lunch staff will follow up with you, or you can complete the form anonymously. ​​https://forms.gle/Ae6ULgLHorTKcwki6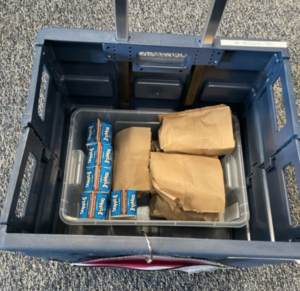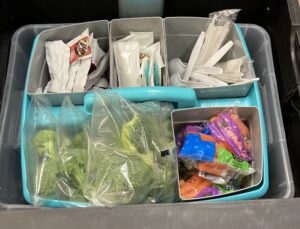 Actualización del almuerzo escolar
¡Esperamos que sus estudiantes estén disfrutando de las comidas proporcionadas por el programa de almuerzo escolar! Queríamos informar a los padres sobre cómo se sirven los almuerzos de primaria. Para facilitar la entrega, el plato principal, la fruta y la merienda opcional se colocan en una bolsa. La leche vegetal y los condimentos no están incluidos en la bolsa, pero se proporcionan en el caddie o carrito. El personal del almuerzo rastrea y ajusta cuidadosamente las porciones de verduras para proporcionar suficiente para cada estudiante que las desee. Si hay escasez de leche, verduras o condimentos, los estudiantes pueden ir al comedor para obtener lo que necesitan.
Damos la bienvenida a los comentarios de los padres y tenemos un nuevo formulario para que los padres nos informen sobre sus inquietudes o problemas. Si elige incluir su información de contacto, el personal del almuerzo se comunicará con usted o puede completar el formulario de forma anónima. ​​https://forms.gle/Ae6ULgLHorTKcwki6