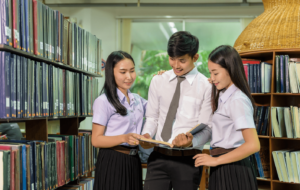 A charter school is a publicly funded and privately run school operating under a charter of educational authority. Charter schools are held to different standards than traditional public schools which allows them to specialize, teach with different methods, and avoid the strict rules that public schools must follow.
The difference between charter schools and public schools is the opportunity to achieve individual goals. Charter schools are specifically designed to turn students into scholars, make them ready for the real world, and give them the confidence needed to move on to the future. American Preparatory Academy takes these goals and turns them into a mission statement ensuring each student achieves maximum academic success, skills to master every level in education, valuable knowledge, and students learn diversity.
Benefits to charter schools that public schools may not offer include:
Scholarships are offered to motivate students to do their best. Monetary awards can be provided to help children pay for college or higher education.
High academic achievements and higher scores on standardized tests. Studies and polls have proven that charter schools focus more on fundamental skills and core classes to give students the opportunities to learn what they need to succeed in the world. Classes are smaller and more individual attention can be given to each student. More care provides valuable questions and answer times, a determination to do well in class, and a need to achieve.
Diversity and a taste for the real world are offered in American Preparatory Academy. Accepting that everyone has something to offer and each ethnicity is unique is a skill that must be mastered by all people of the world. Children can explore differences and learn how to accept differences and be united simultaneously.
Think of charter schools like American Preparatory Academy as a choice between two teaching methods. Supporters of charter schools allege there is less red tape than with public school systems. Less red tape gives a charter school the potential to provide more innovative opportunities.
In a very new charter school in California, the school can bring in experts on different subjects. As an example, recently an astronaut was hired to teach a class on rocket engineering. Her enthusiasm and knowledge inspired students to research further into the science of space. Students wanted to learn more about scientific theories. They gained an excitement about learning.
When looking for an alternative to public school, research the charter school you are considering. Most charter schools are less than five years old, they are usually small in size and serve fewer students. Smaller class size is on the plus side, but does a particular charter school you are looking at provide common core and college-bound education?
Regulations governing charter schools vary from state to state, and so do state-level achievement tests. Even though charter schools like American Preparatory Academy can be innovative in their teaching methods, they are also required to hold their students to certain standards as measured on graduation rates and standardized tests.
There is no one way to teach a subject, and a charter school has more flexibility. Read through the charters of your chosen school, sit in on a class, question the students and the teachers. Understand what you child in "in for" when you choose a charter school education.